in 2000-2001 year our 153 member band performed
"The battle at Sherwood forest"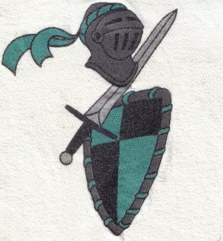 Our show was comprised of the following songs:
-Celtic Fanfare
-Robin Hood
-Sherwood forest
-Everything I do (I do it for you)
Spectators are immediately taken away to the days of "olde" as the field is set with trees to create a forest scene, and the band emerges onto the field from behind them. The band members wear specific costumes resembling English knights, complete with coats of arms. The sideline players are outfitted as friars and the drum majors, Jason Allgair, Phylisha Currie and Nathan Harris sport English period costumes as well. The Auxiliary completes the medieval look with their timely outfits and colorful flags. A mock sword fight becomes an active part of the program featuring Katie Bechtold, Majorette Captain.
The Marching Band attended several competitions and exhibitions throughout the state. They were the Grand Champions at the Lely, High School Tournament of Bands in Naples, Florida. That competition qualified them for the Florida Marching Band Tournament in Orlando where they were judged as finalists. Straight superior ratings were awarded to the band at the Florida Bandmasters Association Celebration of Great Bands held at Traz Powell Stadium. Their superior performance provided them an invitation to return again this year to the 2000 King Orange Parade in Miami on December 31, 2000.
10/21/2000: 1st in class and Grand Champions at Lely Tournament of Bands in Naples, Florida
11/03/2000: 3rd in class and 6th overall at Hialeah Competition
11/11/2000: Straight Superiors at FBA Marching Festival at Traz Powell Stadium.
11/18/2000: 6th out of 32 at Semifinals at FMBC in Orlando. 7th in Finals.
12/31/2000: Performed on National TV at King Orange Bowl parade.